"What if I told you that there was a magic bullet – something that would improve the quality of your daily life, your children's chances of success in the world, [and] your family's health…? Something that is inexpensive, easy to produce, and within the reach of pretty much everyone?" – The Surprising Power of Family Meals, Miriam Weinsten.
Decades of research have found that children who regularly eat family meals have lower rates of alcohol and drug misuse, improved mental and physical health, and increased academic achievement. Eating together as a family may protect children and youth from depression and risky behaviors by providing a regular and comforting context to check in with parents about their day-to-day activities and connect with them emotionally.
It's easy to say that families should eat together, but sometimes it's tough to find the time. Work, school, sports practices, and other obligations all seem to get in the way. That's why we want to connect Idaho parents with tools to help make family meals easy, affordable, and more meaningful. Whether your family mealtime happens every night or only once a week, in the morning before school or late-night for just dessert, it's important to take advantage of whatever opportunity you have to nourish the mind, soul, and stomach of everyone at the table. Keep reading for some fresh ideas for planning family meals, keeping everyone healthy, sparking meaningful conversations, and taking the stress out of the family table.
Breakfast
It's the most important meal of the day! We've all heard that well-worn phrase, and for good reason. Studies show that kids who eat breakfast do better in school, have better concentration and memory, and are more alert and energetic. Additionally, teens who regularly eat a nutritious breakfast experience improved mental health and are less likely to smoke tobacco, drink alcohol, or engage in other risky behaviors.
Breakfast is a chance to connect with your family at the beginning of the day, and the best way parents can help influence their children to eat breakfast is by eating it themselves. So use these resources to find quick, easy recipes and ideas for games and conversation starters to help you kick-off the day on the right foot, even if you've only got a few minutes to spare.
The Idaho Family Breakfast Recipe Guide has conversation starters and activities to help your family start the day off right, as well as five quick and simple recipes for Peanut Butter Banana Overnight Oats, Potato Latkes, Granola Toast, Make Ahead Egg Sandwiches, and a DIY Yogurt Parfait Bar. Download the free Recipe Guide here.
The Family Breakfast Project is an online resource hub full of family breakfast experiences that can help to help you connect with your family in the morning. Including a step-by-step guide to having family breakfasts in just 7 minutes for 7 days. Check it out at www.thefamilydinnerproject.org/the-family-breakfast-project
Dinner
Eating regular family meals is one of the best ways to build and maintain strong relationships with your children. Frequent family dinners are linked to positive benefits for youth, such as lower rates of substance use and misuse, decreased stress, higher self-esteem, and better academic performance in school. Furthermore, teens that eat dinner with their family five times a week are half as likely to use alcohol than those whose families eat together less than twice a week.
The pros of family dinners – it's the longest meal of the day, averaging 22 minutes, making it a good opportunity to catch up on school, work, and the day's activities. The cons – it can be tough for working parents to get home in time to cook, and teens often have homework and afterschool activities that can interfere with dinner time. Use these resources to find simple, affordable recipes and family-friendly conversation starters and games that can help you connect around the table.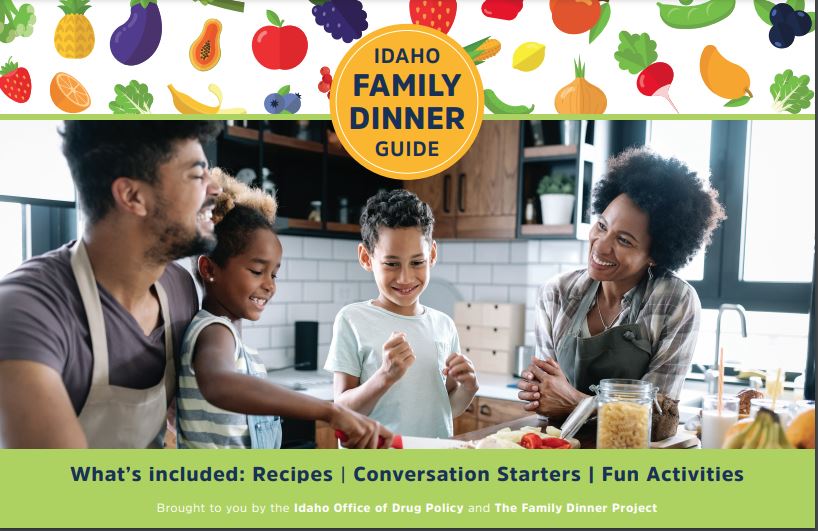 The 2021 Idaho Family Dinner Guide has conversation starters and games to help your family connect around the dinner table, as well as five budget-friendly recipes for Slow Cooker Chicken Santa Fe Soup, Quick Trick Chicken Tacos, 5-Minute Easy Egg Fried Rice, Build Your Own Baked Nachos, & Baked Chicken Parmesan. Download the free Family Dinner Guide here. The Spanish version is also available. Download the free SPANISH Family Dinner Guide here.  
The Family Dinner Project is a nonprofit initiative that champions family dinner as an opportunity for family members to connect with each other through food, fun, and conversation about things that matter. Visit www.thefamilydinnerproject.org for tons of recipes, family activities, and conversation starters. They also offer a free online program, Food, Fun, & Conversation: 4 Weeks to Better Family Dinners, with tools and resources to help you make family dinners a household staple in just four weeks. 
Below are the links to check your skills on the state capitals game in the Family Dinner Guide.
Click here to check your skills for the Idaho Family Dinner Guide State Capitals Game!
Give it another try with this online version of the U.S. State Capitals Game.
Additional Resources