Why are family meals important?
Research has found that frequent family dinners can lower rates of depression, substance use, and delinquent acts among teens. Eating together may protect children and youth from depression and risky behaviors by providing a regular and comforting context to check in with parents about their day-to-day activities and connect with them emotionally. That's why the Office of Drug Policy is encouraging you to celebrate Idaho Family Dinner Night in September – and make regular family meals activities in your home!
Ready to get started?
Become a family dinner pro in 3 easy steps!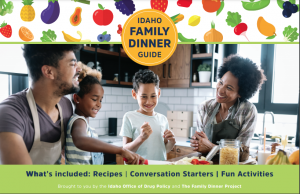 Step 1: Download the Idaho Family Dinner Guide
---
The 2021 Idaho Family Dinner Guide has recipes, conversation starters, and games to help your family connect around the dinner table, as well as five budget-friendly recipes for Slow Cooker Chicken Santa Fe Soup, Quick Trick Chicken Tacos, 5-Minute Easy Egg Fried Rice, Build Your Own Baked Nachos, and Baked Chicken Parmesan.
Download the Family Dinner Guide here.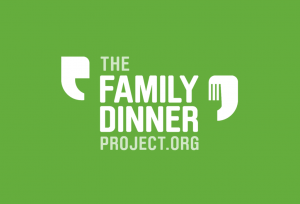 Step 2: Visit TheFamilyDinnerProject.org & Sign up for Food, Fun, and Conversation: 4 Weeks to Better Family Dinners
---
The Family Dinner Project is a nonprofit initiative that champions family dinner as an opportunity for family members to connect with each other through food, fun, and conversation about things that matter.
Visit TheFamilyDinnerProject.org for tons of free resources, including budget-friendly recipes, games & activities, and one-line conversation starters for all ages to help your family connect around the dinner table.

Sign up for their free online program, Food, Fun, and Conversation: 4 Weeks to Better Family Dinners, for tools and resources to help you make family dinners a household staple in just four weeks!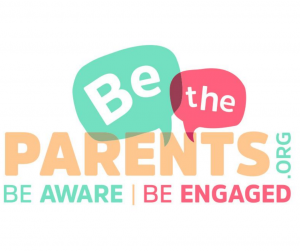 Step 3: Visit BeTheParents.org
---
Be The Parents is Idaho's underage drinking prevention campaign that provides parents with the information, tools, and resources they need to help prevent their child from using alcohol. Parents can do a lot to protect their kids from the consequences of underage drinking, like unplanned and unwanted sexual activity, brain impairment, and even alcohol dependence.
Visit BeTheParents.org for information, tips, and examples of youth who have found their alcohol-free passion.
References and Resources